SVN Annual Conference in Miami March 2019
This year's 2019 Annual Conference was such an incredible experience for everyone in attendance. The energy within the conference was one-of-a-kind. SVN recently came out with a Wrap-up, thanking everyone who attended, easily making it one of the most successful conferences in SVN history and SFRhub is so incredibly grateful we were part of the conference.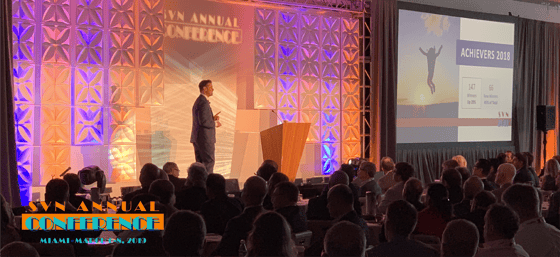 Kevin Maggiacomo, SVN President & CEO commenced the conference with amazing points. Here are a few, "Leverage … the SVN culture to take market share in this era of change." That's what SVN President & CEO Kevin Maggiacomo encouraged the 400+ attendees to the 2019 SVN Annual Conference in Miami to do. These attendees, who hail from 38 states and five foreign countries, learned from Kevin during the opening session about the CRE industry in general, how SVN did in 2018, and where SVN is headed this year and beyond.
Keynote speaker Ryan Estis on Adaptability and Success.
In a world where your customers and competition are changing fast, you need to think differently. If you don't adapt, you will be a company that gets disrupted, much like Borders, Circuit City and others that were once leaders in their fields and are now defunct. That was the warning that Ryan Estis, the SVN Annual Conference keynote speaker, had for attendees.
"Success tends to breed complacency."

Turn clients into brand evangelists
Ryan Estis' advice to brokers who want to succeed is to become obsessed with branding and client experience. Successful brokers will understand that clients want a good experience, which includes:
Efficiency
Friendly service
Knowledgeable service
Convenience
Up to date tech
Having a client-focused culture helps turn your clients into brand evangelists.
---
SFRhub was awarded the prestigious Collaborators of the Year award! A huge thanks to SVN for the award and the honor!
Collaborators of the Year: Jeff Cline, Executive Managing Director and Michael Finch, Executive Vice President both of, SVN| SFRhub Advisors, Phoenix, AZ.
Michael Finch with Kevin Maggiacomo, receiving the award.
---
Contact Jeff Cline at SVN | SFRhub Advisors
SVN | SFRhub Advisors
Phone: 602-441-5354
2400 E. Arizona Biltmore Circle
Suite 1400
Phoenix, AZ 85016