Originally posted by Bloomberg | Prashant Gopal
U.S. mortgage rates fell for a second straight week, giving homeowners more incentive to refinance — as long as they still have jobs.
The average rate for a 30-year loan was 3.33%, down from 3.5% last week, Freddie Mac said in a statement Thursday. Rates for 30-year mortgages have been on a roller coaster since tumbling to a record low of 3.29% in early March.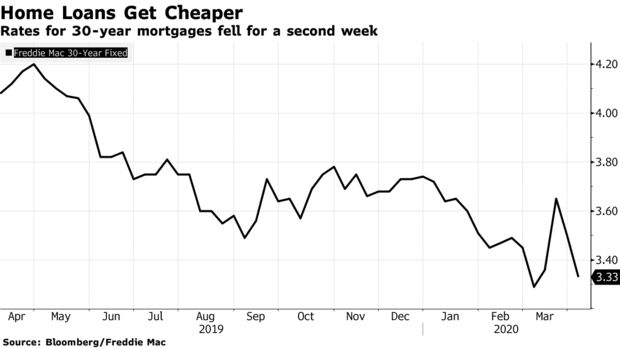 Housing deals of all types are under pressure as the coronavirus spreads and the economy shuts down. While public showings vanish and sales slow, some buyers in contract are trying to renegotiate prices, according to Patrick Boyaggi, chief executive officer of online mortgage marketplace Own Up.
Current borrowers looking to save money are in the best position to take advantage of low rates. But even then, not all can benefit: A lender recently canceled a refinancing deal for a Texas homeowner who lost his oil-industry job, he said.
"For purchases, low rates are not going to change the concern about going out to open houses," he said. "Moreover, people aren't listing homes, so there's very little opportunity to take advantage of this in the first place. People are waiting to see where economy is going."
Applications for purchase loans dropped 10.8% in the week through March 27 after tumbling 14.6% — the worst two weeks since May 2010, an index by the Mortgage Bankers Association showed.
Originally posted by Bloomberg | Prashant Gopal